Motorola adopts modular Phonebloks for Project Ara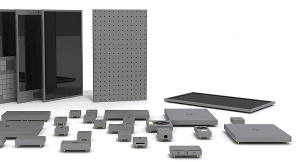 Configurable Phonebloks? I'm amazed Motorola are apparently picking this one up.
Back in September we highlighted a concept design for taking a modular approach to mobile phone technology. Think swapping in different processors or displays from different vendors, or choosing to substitute different chunks of functionality – sacrifice the space for a camera module in order to gain NFC and Wi-Fi support, maybe.
Good in theory, I said (slightly patronisingly, but I envisaged lots of problems with the engineering details). But what do I know? The open source initiative is dubbed Project Ara reports theVerge.com.
Maybe Motorola think the concept is so good a suitable implementation will have to be found… It's a way, basically, to address the increasingly fast rate of obsolescence affecting mobile phones. A modular approach to components would minimise the impact of sub-system changes, that's the basic thrust.
Sam Byford writes:
Motorola will be working with Phonebloks, which recently showed off a similarly ambitious concept for modular smartphones; the Google-owned hardware manufacturer says that it plans to engage with the Phonebloks community throughout the development process and help realize the same idea with its technical expertise.

Project Ara's design comprises of an "endo" — the phone's endoskeleton, or basic structure — and various modules. The modules "can be anything," says Motorola, giving examples ranging from a new keyboard or battery to more unusual components such as a pulse oximeter.
Anyway, according to the original designer, Dave Hakkens:
Phoneblok would be made of detachable bloks, said the designer, one Dave Hakkens. "The bloks are connected to the base which locks everything together into a solid phone. If a blok breaks you can easily replace it; if it's getting old just upgrade."
The original designer envisages a "blokstore", rather than an app store:
It's like an app store for hardware. In the store you buy your bloks, read reviews and sell old bloks. Small and big companies develop and sell their bloks. You can buy a pre-assembled phone or assemble it yourself by selecting the brands you want to support. The choice is yours.
What are your thoughts? A practical idea, or are they barking up the wrong tree (with the best of intentions)? Leave a comment below.
2 Comments