Picture of the Day: Samsung Curved OLED TV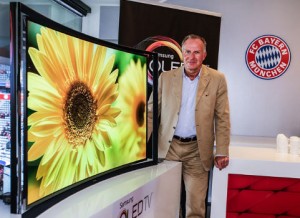 Time for another Pic of the Day, and its another TV from South Korea (Samsung this time, not LG). How about an immersive viewing experience that also promises to reduce eye fatigue?
According to Samsung, its 55-in Curved OLED TV promises "a whole new way to experience television", featuring Multi View capabilities with Full HD in 2D/3D and stereo sound…
Already available in S.Korea, it comes to Europe from tomorrow, priced at €7,999.
Says Samsung: "Listen up Germany, England, France, Austria, Switzerland, Netherlands, Belgium and Italy! The Curved OLED TVs are coming to you! Starting on the 28th of this month, the first-ever Curved OLED will be available in many European countries."

"OLED panels consist of thousands of self-emitting diodes that deliver richer and brighter images compared to current TVs. However these require complex production methods. Samsung, with its technology, aims to eliminate the potential for defective pixels, delivering flawless picture quality on the Curved OLED TV."
Any excuse to get the legendary Karl-Heinz Rummenigge on Gadget Master!
Previous Pictures of the Day: