Featuring homemade electronic gadgets, the latest in development boards (Arduino, BeagleBoard, Raspberry Pi, etc), examples of cool design, and the latest and greatest (and most shiny) consumer gadgets.
Gadget Book: Raspberry Pi Projects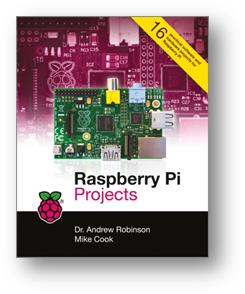 Here's a new book that may be of interest to Gadget Masters – Raspberry Pi Projects, written by Andrew Robinson (who wrote the Raspberry Pi Hardware Projects books) and Mike Cook (who wrote Raspberry Pi Projects For Dummies among others).
The paperback (and e-book) is priced at £14.99.
According to Wiley, the publisher:
Containing 16 practical projects this fun and informative resource introduces readers to the skills required in order to make the most of the Pi.
Beginning with a quick look at how to get the Pi up and running, and programming with Python, it then helps readers to get stuck in to an array of exciting software and hardware projects, including:
* Writing simple programs such as a tic-tac-toe game
* Recreating vintage games similar to Pong and Pacman
* Constructing a networked alarm system with door sensors and webcams
* Building Pi-controlled gadgets including a slot car racetrack, disco lights and a door lock
The full details:
Pages: 478
Publisher: Wiley
Publication Date: January 2014
ISBN: 9781118555439
Read more about the book on Wiley.com »

Tags:
book
Related posts
Happy to flag this one – a new book that…more »