MagPi and the Game of Life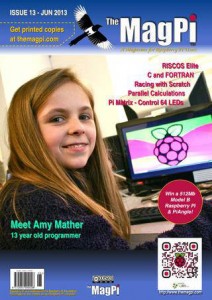 Just a quick post to flag that Issue #13 of The MagPi has flown the nest, the magazine dedicated to the hugely popular educational development board.
Highlights include an introduction to controlling 64 LEDs and programming the I2C bus, the continuing Schism Tracker music series, some book reviews (Raspberry Pi for Dummies and Super Scratch Programming Adventure), a compo to win a Raspberry Pi Model B with the new PiAngle case, and an article on how to play the trading game 'Elite' on your Raspberry Pi…
There's also a feature on the talented young Amy Mather, a member of Manchester Raspberry Jam (see this presentation on how she developed Conway's Game of Life on her Raspberry Pi).
You can view an electronic page turning version with issuu and also view it in the PDF format.
You can view all the back issues, too »

Tags:
LEDs
Related Tech News
Share your knowledge - Leave a comment