MagPi, and the return of the Skutter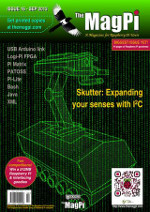 We always flag the latest issue of MagPi, the magazine devoted to the popular dev board… and the September issue is out.
What's in issue #16? Well, there's another look at a Skutter, which shows how you can expand the number of inputs and outputs that can be controlled from a Raspberry Pi using I2C, allowing you to add more sensors to your bot while driving the base unit.
There's also a plug and play LED matrix board, learning how to scroll text on the Pi Matrix, a look at the LOGI-PI Spartan6 FPGA board, Part 2 of a look at a USB Arduino Link, Part 2 of Building and parsing XML in Python, an events guide, a book review of "Raspberry Pi in Easy Steps and Python for Kids", and much more…
You can view an electronic page turning version with issuu and also view it in the PDF format.
You can view all the back issues, too »

Tags:
dev board
Related Tech News
I've said before that devkits are like London buses –…more »

Imitation is the sincerest form of flattery they say, and…more »

We always flag the latest issue of MagPi, the magazine…more »
Share your knowledge - Leave a comment