MagPi builds on Pi robotics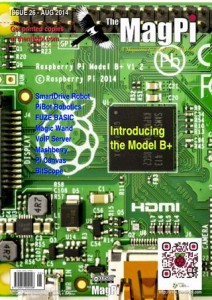 A new edition of The MagPi is out, I'm happy to say. And, as always, it's available for free download.
What does Issue 26, for August 2014, contain?
As well as lots of detail on the new Model B+ Pi, a fun hardware project involves turning a Raspberry Pi into a magic wand, while another feature shows how a Raspberry Pi can be used to display dynamic art.
There's also part II of Harry Gee's Robotics article, showing how to add speech, voice control and facial recognition to your robot. And there's more on learning how to program with FUZE BASIC.
The magazine is edited by Ash Stone, and you can view an electronic page turning version with issuu and also view it in the PDF format.
You can view all the back issues, too »

Related Tech News
Share your knowledge - Leave a comment