Raspberry Pi camera module takes the MagPi focus of attention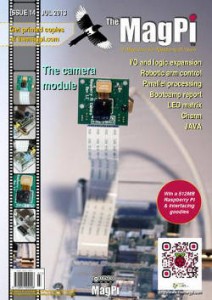 Time to flag there's a new issue of The Mag Pi, the free digital magazine devoted to all things Raspberry Pi. The development board's new camera module is the focus of attention this month, with a guide on its setup and basic operation being written by James Hughes.
There's also Part II of a Pi Matrix article, a look at the Guzunty board, a beginner's guide to Java and a review of the South West Raspberry Pi Boot Camps. Not forgetting a competition to win a 512MB Model B Raspberry Pi. Certainly worth checking out!
You can view an electronic page turning version with issuu and also view it in the PDF format.
You can view all the back issues, too »

Tags:
Raspberry Pi
Related Tech News
Share your knowledge - Leave a comment