The Magpi goes Infrared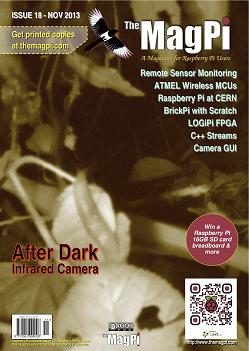 The months are going quickly. The November issue of The MagPi is already out, and the main feature is the Pi's new infrared camera module.
Andrew Back of RS Components takes a look at the night-vision, nature-watching capabilities of the Pi NoiR.
Inside the covers there's also an article on the Raspberry Pi at CERN, the PiVision GUI, and another Scratch programming tutorial with BrickPi, and a lot more. Worth checking out, and it's all free.
It's edited by Ash Stone.
As always you can view an electronic page turning version with issuu and also view it in the PDF format.
You can view all the back issues, too »

Tags:
The MagPi
Related Tech News
Share your knowledge - Leave a comment