The MagPi takes quadcopters for a spin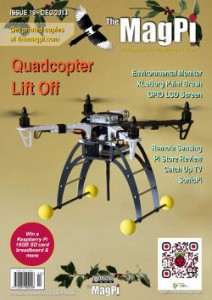 We're always happy to flag the latest issue of the excellent The MagPi, for all things Pi-based, and the December 2013 issue is now available for free download.
Featured topics this month are a Pi-powered quadcopter, with Andy Baker beginning a series on building the flying machine, OpenELEC for catch up TV on your Raspberry Pi, scrolling an RSS feed on an LCD via GPIO, and the Sonic Pi, an "open source programming environment designed to explore and teach programming concepts through the process of creating new sounds".
The magazine is edited by Ash Stone.
As always you can view an electronic page turning version with issuu and also view it in the PDF format.
You can view all the back issues, too »

Related Tech News
Share your knowledge - Leave a comment