Video: Making a Raspberry Pi – the full manufacturing process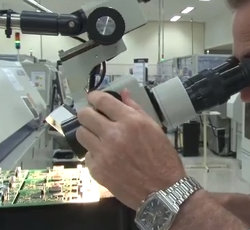 The Raspberry Pi is a staple diet of Gadet Master, of course, so it's great to share this video – a privileged look inside the manufacturing facilities at Sony Tech UK, at its facility in Pencoed, South Wales.
See the whole manufacturing process from beginning to end, from loading the circuit boards to final visual inspection…
Steve Bush, our Technology editor, writes:
No stranger to fine-pitch pick and place – the plant has been making broadcast and professional cameras since demand for CRT TVs collapsed – Sony positions and solders components down to 0402 (1.0×0.5mm) on Raspberry Pi PCBs.

That said, the little computer gave Sony its first opportunity to handle package-on-package assembly – Raspberry Pi's main RAM is sacked onto the CPU during production. Both chips are the same size and, as well as pads on the bottom, the CPU has pads on top to accept the RAM.

Automatic visual inspection is used extensively. For example: following screening (not shown in the video) solder paste is examined by both 2D and 3D camera systems before the boards move on to pick-and-place.

With all the inspection, Sony UK business development manager Gareth Jones tells us he gets "single figure ppm reject levels". There is also 100% electrical testing plus further testing on samples.
A great success story for UK manufacturing!
Read the full news article – Video: How they make Raspberry Pi in the UK
See also: Raspberry Pi Development blog