Featuring homemade electronic gadgets, the latest in development boards (Arduino, BeagleBoard, Raspberry Pi, etc), examples of cool design, and the latest and greatest (and most shiny) consumer gadgets.
Perfect rock-paper-scissors robot signals future automation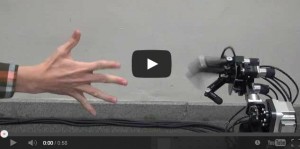 Check out this Japanese research involving the perfect rock-paper-scissors robot.
Its creators call it a "janken" and demonstrate a 100% winning rate, as just one example of "human-machine cooperation systems". Of course, impressive as the work is, it is actually cheating – reading the opponents play and then responding, albeit very fast….
They write:
Recognition of human hand can be performed at 1ms with a high-speed vision, and the position and the shape of the human hand are recognized. The wrist joint angle of the robot hand is controlled based on the position of the human hand. The vision recognizes one of rock, paper and scissors based on the shape of the human hand. After that, the robot hand plays one of rock, paper and scissors so as to beat the human being in 1ms.

This technology is one example that show a possibility of cooperation control within a few milliseconds. And this technology can be applied to motion support of human beings and cooperation work between human beings and robots etc. without time delay.
Whereas in the first version, the final shape of the robot hand is delayed 20ms after the human hand, in the second version, the final shape of the robot hand is completed even faster – "almost the same time [as] the finished shape of a human hand," say the creators.
The serious aspect of the research is to investigate the technology's use in labour-intensive processes that currently require human eyes and hands because they're too difficult or costly to automate.
Read more about the work at the Ishikawa Oku Laboratory »
[Via
Gizmag
]

Related Tech News
Share your knowledge - Leave a comment