Video: Biomimetic 3D printed robot sprawls under doors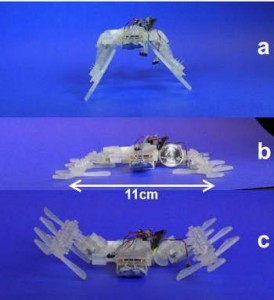 Thanks to Sue P for highlighting this one – it's a little gem of a creation: a biomimetic 3D printed robot that can limber itself under doors (it can "control its sprawl angle").
Not only can it lower itself, it can cope with falling off surfaces by auto-righting itself, and then there's its on board camera! It's the STAR (Sprawl Tuned Autonomous Robot), developed by students at UC Berkeley. Specifically, David Zarrouk, Andrew Pullin, Nick Kohut and Ronald Fearing at the Biomimetic Millisystems Lab.
The little critter can run at speeds up to 5.2m/s (43 body lengths per second) on smooth surfaces while steering is on, and the legs slide to the side to help reduce collisions with the ground and also allow for better stability and steering control, say its creators.
Technically it is Star v3.0 as some mechanical improvements saw the team adding fiber reinforced rods to reduce collision damage at high speeds.
It's featured in Gizmag.com, where Jonathan Fincher writes:
The STAR's ability to limbo under doorways and scale obstacles would be impressive enough, but the research team found that changing the sprawl angle even affected its overall velocity. When running on a lower sprawl angle, the robot's body remained more stable and the legs contacted the ground with more force, giving it a slight speed boost.

On a smooth, flat surface, the STAR is capable of running along the ground at a speedy 5.2 m/s (approx. 11.6 mph), leaving its lab stablemate, the VelociRoACH, eating its dust. By only spinning one side of legs at maximum speed, the robot can also turn a full 360 degrees in under a second and take off in another direction almost instantly.
The goal of the Biomimetic Millisystems Lab, it says, is "to harness features of animal manipulation, locomotion, sensing, actuation, mechanics, dynamics, and control strategies to radically improve millirobot capabilities. Research in the lab ranges from fundamental understanding of mechanical principles to novel fabrication techniques to system integration of autonomous millirobots. The lab works closely with biologists to develop models of function which can be tested on engineered and natural systems. The lab's current research is centered on all-terrain crawling using nanostructured adhesives and bioinspired flight."