Nymi biometric wristband authenticates your identity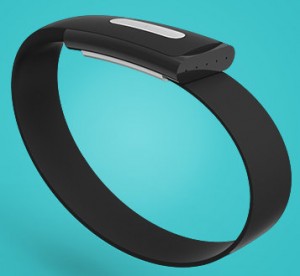 The latest iPhone features a biometric Home button, to help the device quickly authorise your access, but of course it is not the first gadget to go down this route.
New Scientist has highlighted another device that uses biometric information to save you remembering multiple passwords and the like. But it is not fingerprint info, but your very heartbeat.
Nymi is a wristband developed by a company called Bionym and it uses electrocardiogram (ECG) sensors monitoring the wearer's heartbeat to confirm an identity, communicating the authentication to relevant devices, whether iPads or cars (via Bluetooth Smart).
There's also an integrated accelerometer and gyroscope to enable task-specific gesture recognition.
Rachel Nuwer writes:
We've known since the 1960s that the peaks and troughs in an individual's heartbeat form a unique pattern, because of differences in the heart's position, shape and size. This means it can be used to identify a person – and is harder to spoof than biometric systems that rely upon external features such as fingerprints, irises or facial patterns, says Karl Martin, Bionym's CEO.

Wearing the Nymi wristband, a user registers their identity by touching a sensor embedded in the top of the band with the opposite hand for about 2 minutes while the Nymi captures an ECG signature. Once stored, it will recognise only this unique biometric template.

To access a device, you touch the top of the Nymi for several seconds, while another sensor in the band is in contact with your wrist. Once authenticated, the Nymi then communicates via Bluetooth to an app running on the device. Gestures, such as a wave, or flex of the wrist, correspond with different commands for certain devices, such as unlocking the driver versus the passenger door in a car. When you remove the Nymi, devices linked to it will automatically lock.

"Having a single biometric trait unlocking multiple devices based on recognising an individual is a fascinating application and can be used in so many different scenarios, as long as the biometric trait being used to unlock is reliable," says Arun Ross at Michigan State University.

Bionym claims it has initial performance data, which it will release later this year, showing that its ECG system outperformed face recognition technologies, but that ECG was still not as accurate as the very top-of-the-line fingerprint systems. But for those concerned about identity theft, Martin points out that a three-tier system protects them: a person would have to steal the Nymi, replicate a user's unique heart rhythm and have access to their device. "In practical situations, the false positive rate of the system is effectively zero," he says.

If a user is stressed or exercises, the band should continue to function, Martin says. Although if you had just run a marathon, then immediately put the band on, the Nymi may struggle for a few minutes to get an accurate reading, he admits. "The system tolerates regular variation. It doesn't require your heartbeat to be exactly the same every time."

The Nymi will cost less than $100. Pre-orders begin on 4 September, with shipments planned for early 2014. The first units will unlock iOS, Android, Windows and Mac OS X devices, and will vibrate to alert you to email or social media messages that appear on a small LED screen. Developers interested in exploring their own ideas for the Nymi will have access to pre-production units in December.
You can more about the technology involved »