Taking a swirling, mind-melting journey on LabVIEW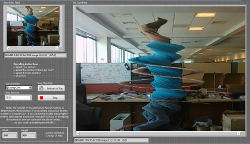 The folks at National Instruments obviously had fun making this one. A novel LabVIEW app lets you become part of a swirling, psychedelic-style, interactive work of art!
The app uses a slit-scan imaging technique to create customised animations. NI writes:
Originally used in static photography to produce surreal, deformed images, the slit-scan imaging technique was evolved to create spectacular animations – enabling cinematographers to compose psychedelic flows of colours and movements.

Slit-scan was traditionally a mechanical camera technique — but, as this application proves, software processing can be applied to bring this mesmerizing effect to any camera!
Check out the effect, for example in 2001- A Space Odyssey
You can read more info and download the app »