Toshiba drops forward voltage with GaN-on-Si lighting LEDs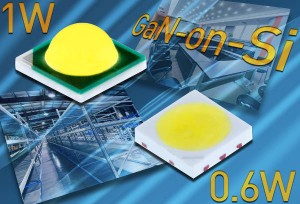 Toshiba has launched two series of white LEDs: the 3.5×3.5mm lensed 1W TL1L2, and the 3.0×3.0mm flat package 0.6W TL3GB.
"Both have been developed as light sources for general lighting applications, including light bulbs, base lights, down lights and ceiling lights, street lights and floodlights," said the firm.
They are made on a gallium nitride-on-silicon (GaN-on-Si), which is intended to reduce production cost, and performance seems similar to more conventional GaN-on-sapphire and GaN-on-SiC devices.
TL1L2-Series
3.5×3.5mm lensed
2.85V at 350mA
135 lm/W at 1W (350mA), 5,000K, Ra70
TL3GB-Series
3x3mm no lens
5.76V at 100mA
118 lm/W at 0.6W (100mA), 5,000K, Ra80
Six colour temperatures from 2,700 to 6,500K will be available.
Mass production of both series will start at the end of March.

Related Tech News
Share your knowledge - Leave a comment