Lens gies narrow beam and colour mixing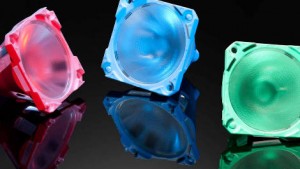 Geri-RZ is a 45mm TIR lensfrom Ledil, intended to produce a narrow beam from RGB leds, with good colour mixing.
Its mixing is based on the proprietary 'RZ' surface.
"Very good color uniformity can be achieved with this micro-lens structure without an additional mixing chamber," said the firm.
It will work with a range of multi-color LEDs – RGBW or tunable white, for example. as well os clausters of mini lighting leds form the likes of Cree and Lumileds.
32.8mm high
45x45mm footprint
Beam +/-8° typically
88% typical efficiency
optical grade PMMA
UL94 HB rated
-40 to +100°C operation

Related Tech News
Share your knowledge - Leave a comment