7% more from Cree XP-G2, and LM80 data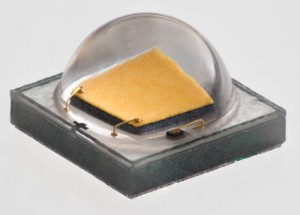 Cree's XP-G2 lighting LEDS now deliver up to 142 lm/W at 350mA 85°C, or a warm white 155 lm/W (350mA 25°C 3,000K).
Changes are put down to 'Enhanced SC³ Technology', which doesn't tell us much because the firm has never revealed the technologies behind normal 'SC³'.
Perhaps of more interest is the results of 6,000 hours of LM-80 testing on the XP-G2 LED.
"This LM-80 data provides TM-21 reported L85 lifetimes greater than 36,000 hours, translating to 15% light loss after four years, even at the maximum current of 1500mA," said Cree.
XP-G2 predecessor XP-G has now had more than 12,000h of LM-80 testing.
"All XP-G data sets provide TM-21 reported L95 lifetimes greater than 70,000 hours, or eight years," said Cree.
Samples of the somewhat boosted XP-G2s are available now, and production quantities on standard lead times.