Element14 launches Osram drivers and light engines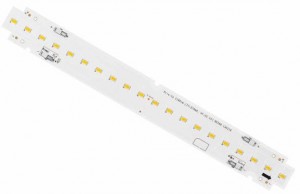 Element14 is to sell Osram's PrevaLED range of light engines and Optotronic drivers – essentially, Osram's kit of parts for luminaire makers.
The light engines are launched with and without integrated drivers and come in a variety of luminous flux and four shades of white from warm white to cool white. Efficient goes up to 130 lm/W, and there is a variety of forms from strips to round and square modules "meeting Zhaga standards", said Element14, sugesting typical applications include spotlighting in shops, down lighting and wall lighting in offices, corridors, meeting rooms and workplaces, as well as decorative and functional lighting in the hospitality industry.
"Benefits of the range include lower overheads due to simpler cooling from reduced thermal load as well as automatic control of luminous flux and over temperature protection from OTi DALI means the range is self-regulating," said Paul Ward of element14,.

Tags:
led lighting
Related Tech News
Share your knowledge - Leave a comment