LED news and insight from our technology editor Steve Bush, who has been messing with LED lighting for more years than he would care to remember.
Gaggione brochure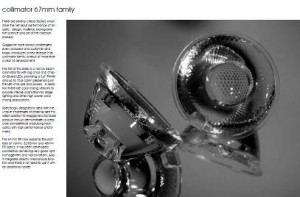 Gaggione has released an over-view of its range.
Called Shaping Your Light, it includes the firm's 67mm collimators, which must be about the biggest cast collimators out there, short of LED Engin's 80mm LLNS which have the centres hollowed out to reduce stresses in the plastic.

Related Tech News
Share your knowledge - Leave a comment