IR LED emits up to 4.5W at 850nm or 940nm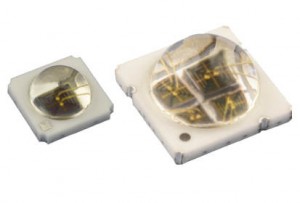 Up to 4.5W at 850 or 940nm is available for security lighing now LED Engin has put four dual-junction die in its 7x7mm LZ4 package.
It has also released a single die LZ1 (4.4×4.4mm) version, and a single-junction four die version.
For more information, take a look at the main Electronics Weekly news website.
On top of this, LED Engin has a couple of new quad-die red emiters:
660nm 2.6W ('deep' red) LZ4-00R208 LZ4 (2.6W typical at 700mW, 3.4W at 1A)
740nm 2.1W ('far' red) LZ4-00R308 (2.7W at 1A)
Even after skimming the data sheets, I am struggling to see the difference between these and the exising LZ4-00R200 and LZ4-00R300. Any one know?

Related Tech News
Share your knowledge - Leave a comment