L+B: Micro GaN-on-Si lighting LEDs from Toshiba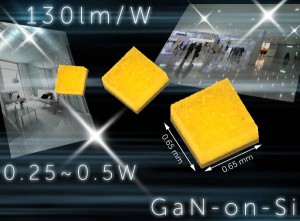 Toshiba has launched a series of ultra-small (0.65×0.65mm) chip scale package white LEDs for lighting applications – reducing mounting area by 90% compared to conventional 3.0×1.4mm products.
The new TL1WK series LEDs have been designed as light sources for general lighting, including straight tube lights, light bulbs and ceiling lights.
"They are the industry's smallest 0.25 to 0.5W white LEDs, but they achieve a luminous efficacy of 130lm/W [60mA]. Forward current is up to 180mA," said the firm.
The chips are built on 200mm silicon substrates.
Smaller die mean narrow beams for the same optical diameter.
The first device has a colour temperature of 5,000K and CRI of 80.
4,000, 3,000 and 2,700K are under development.

Related Tech News
Share your knowledge - Leave a comment