L+B mid-power bonanza: Sharp CCT tuneable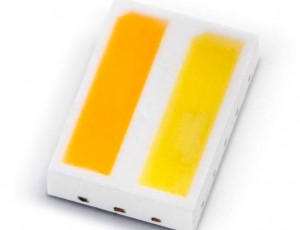 Sharp has announced a 2,700-6,500K CCT tuneable mid-power LED.
The 4.2x3x0.9mm device has two die, one at each colour temperture, and is tuned by externally varying the current ratio between them.
"The die are packed closely together to deliver uniform light without shadows," said Ismosys, which represents the product line in the UK. "A typical forward voltage of 3.1V amounts to a typical combined power output of 0.37W. The 2,700K emitter delivers 32 lm from the 120mA drive current while the 6,500K emitter delivers 38 lm."
The combined emitters score over 80min for colour rendering index.
Sharp first offered this form of tuneablity in its high-power 'Tiger Zenigata' chip-on-board array – named for the stripes of different colour phosphor across its 17mm diameter light-emitting surface.
"More and more people are coming to understand the benefits delivered by lighting schemes that that mimic natural daylight in the office and workplace and is able to progress through cool colour temperature at the beginning of the day to the warm colour CCTs needed to maintain personal comfort and well-being in the evening," said Ismosys MD Nigel Watts.
The two die device, named 'Mini Tiger Zenigata', gets its first public airing at Light+Building in Frankfurt next week – Hall 4.2, stand J71.

Related Tech News
Share your knowledge - Leave a comment