L+B min-power bonanza: 1,000 lm/$ claimed for 3020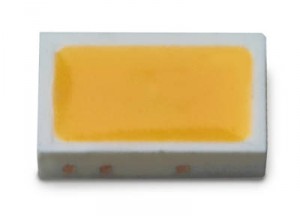 You can't move for mid-power lighting LED announcements from Philips Lumileds this month (It's marketing department, to be fair, did email us in February and call this 'mid-power March').
This one is the Luxeon 3020.
"Luxeon 3020 is the most affordable of all our mid-power LEDs, delivering over 1,000 lm/$. This product will inspire the market with the next generation of LED lamps," said product manager Orson Lo.
According to the firm, this price is low enough to "drive a variety of long-awaited commercial LED lighting fixtures into the mass market, including lamps and troffers".
Like 3030 and 3014 in earlier blogs, hot binning and 1/9 binning have been adopted to ease integration. "With the new binning option, customers have the ability to select portions of the bin structure that are within the ANSI, 5-step MacAdam Ellipse or 3-step MacAdam Ellipse regions, achieving the color point needed for a particular application", said Lumileds.
6,500K and 80 CRI figures are:
90 lm at at the maximum drive current of 240mA.
135 lm/W typical efficacy at 120mA.
LM-80 data is available. The package is an epoxy QFN.
For more information about the product, visit

Related Tech News
Share your knowledge - Leave a comment