Lumileds claims most efficient arrays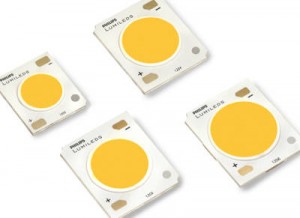 Lumileds has boosted efficacy in its chip-on-board products to 130 lm/W, amongst other improvements.
"The result is the highest combination of lumens, package density and efficacy in the industry," claimed the firm. "For instance, in warm white, the 9mm array delivers 2,200 lm at 100 lm/W and the cool white array delivers 2,500 lm at 105 lm/W."
Light-emitting surfaces of 9, 13 or 15mm are available.
The package is a metal-core pcb.
"Our 90 CRI versions have a typical CRI of 97. Lumen packages are available with colour temperatures of 2,700 to 5,700K and CRIs of 70, 80 or 90," said product line manager Eric Senders.
There is a Lumileds CoB product selector.
As with all LED makers, do check which bins are actually available.