Lumileds ups 3535 game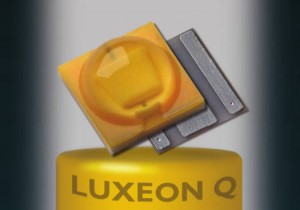 Luxeon Q is a 1A die in a 3535 surface mount package.
Electronics Weekly's news site has more here
Picking an 80 CRI 3,000K device (L1Q0-3080) from the range, typical 85deg Tj figures for flux, voltage and efficacy are:
102 lm, 2.81V and 104 lm/W at 350mA
183 lm, 2.93V and 89 lm/W at 700mA
240 lm, 2.99V and 80 lm/W at 1A.
Top-end eficacy is 135 lm/W at 5,700K 70 CRI and 115 lm/W at 3,000K 80 CRI (85C, 350mA).