LED news and insight from our technology editor Steve Bush, who has been messing with LED lighting for more years than he would care to remember.
Luxeon Lime on interesting substrate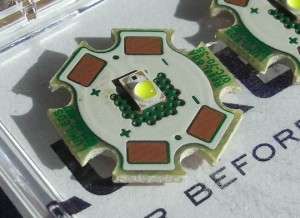 A couple of Luxeon Limes – the most efficacious production LEDs yet – have arrived in the Electronics Weekly office for our Engineer in Wonderland to play with.
They are on interesting substrates.

Related Tech News
Share your knowledge - Leave a comment