LED news and insight from our technology editor Steve Bush, who has been messing with LED lighting for more years than he would care to remember.
Marvell aims for Zigbee smart bullbs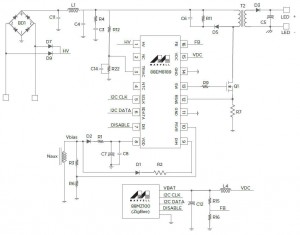 Marvell's 88EM8189 ac-dc LED lighting driver chip is not only phase-cut dimmable, but has an I2C interface to allow digital control – particularly from its 88MZ100 Zigbee tranceiver.
It can be used in either non-isolated buck-boost or isolated fly-back designs – primary-side sensing allows isolated designs without an opto-isolator.
There is a lot more information on the Electronics Weekly news website article.
With the ZigBee interface, stand-by power consumption is a disappointing 500mW in the product brief.

Tags:
digital control
,
I2C interface
,
led lighting
,
zigbee
Related Tech News
Share your knowledge - Leave a comment