Molex pre-wired LED array holder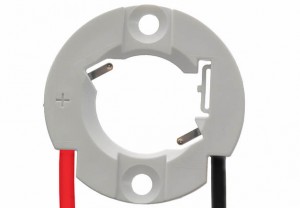 Aiming to get secondary optics closer to array-style LEDs, Molex has introduced a low-profile COB holder. 

"The key design challenge for LED accent lighting luminaires is to get secondary optics very close to the light emitting surface of the LED. Any reduction in the distance between the LED and the optics results in tighter beam control and higher luminous efficacy." said Molex product development manager Dave Rios. "First-generation LED COB holders have enabled many applications, using reasonably low profile heights, but the Molex Pre-wired LED holder takes it a step further.
Height is 3mm, and the top surface is sculptured to allow more space for the curving optic.
To rescue some light, the holder body is made from a reflective white plastic.
The holders come with an LED pre-load feature that allows seating of the LED before final assembly, said Molex, and allow flexibility in footprint size "from small space-saving diameters to 50mm Zhaga-type or larger, with a wide range of optical attach possibilities".

Related Tech News
Share your knowledge - Leave a comment