Nichia argues for novel mid-power led encapsulation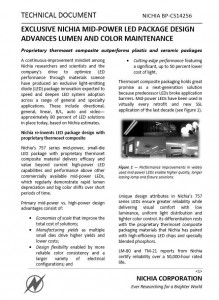 Nichia has published a white paper discussing encapsulation materials for reliable mid-power leds.
It is quite detailed, and includes Nichia's critisism of polyphthalamide (PPA – its benzine rings photo-degrade).
The firm's replacement is decribed as 'thermoset composite and inorganic materials', in some sort of matrix, it appears.
It is used in Nichia's 3x3mm 757 led series, for which it is reporting 50,000hr rating for LM-80 and TM-21.

Related Tech News
Share your knowledge - Leave a comment