Osram builds-in reflector for narrow beam LED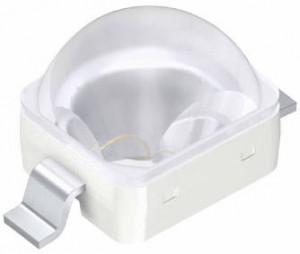 For security surveillance, Osram has developed an infra-red (850nm) LED that does not need secondary optics.
Instead it has an intrinsically narrow beam angle.
"The Dragon Dome [SFH 4783] is the first high-power infrared LED that emits its light within an angle of +/-12°," said Osram. "From a current of 1A, it achieves a total radiated power of 430mW and therefore a radiant intensity of 2.3W/sr. At this radiant intensity the beam of light will have a usable range of more than 100 meters, depending on the sensitivity and field of view of the camera."
This intensity is attributed to "state-of-the-art thin-film technology which enables the light to be extracted extremely efficiently from the chip".
In addition to this, there is a deep metallic reflector within the package, plus its dome lens.
Footprint is the same as other Dragons – 11x6mm – including gull wing leads. Height is 5.7mm.
Reflectors are not new, but they are usually small, and flat or cupped close to the die – the lead-frame dimples in 5mm LEDs, for example.
Just for interest, does anyone out there know the die size?
Or know where the data sheet is?