Asymetric Ledil lights advertising hoardings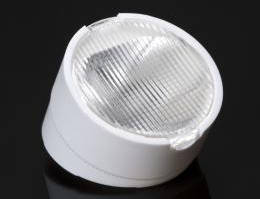 Billie is Ledil's answer to lighting advertising hoardings (billboards).
Designed to be mounted above and in front, it is "a rectangular wall-washing optic with excellent beam uniformity", said the firm. "The asymmetrically tilted beam ensures uniform illumination on vertical surfaces.
Billie is compatible with a variety of lighting class LEDs manufactured by Cree, Osram, Nichia or Philips Lumileds."
Separate specifications are available for Versions are available for: Nicia NCSxx19A LEDs, and Cree's XB-D LEDs.
Designed with a beam tilt angle of 20°, it has a distance-height ratio of 1:3, and distance-width ratio of 1:2.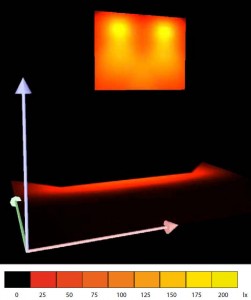 Simulated lighting a 4x3m hoarding (pictured), with lighting fixtures 0.5m above and 1.0m in front of its top edge, 884 lm is delivered, producing 104-218 lux on the surface – 1:2 uniformity.
The 21.5mm diameter 16.2mm high PMMA optic is UL94 HB-rated, operates over -40 to 80°C, and has a polycarbonate holder.
Applications are also expected in wall-washing, retail lighting, and museums.