Cree gets into lighting controls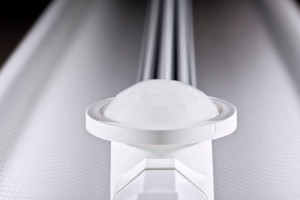 Is there no limit to Cree's expansion into lighting?
Now that it has completed its vertical integration – making everything from lighting LED die to finished luminaires and LED lightbulbs – it has got a bit wider horizontally by adding its own range of wireless controls for office/school/commercial lighting:  branded SmartCast.
There is a lot going on with this system: each enabled luminaire has its own light sensor, movement sensor, and wireless node.
And set-up seems to be automated, with luminaires flashing and optically sensing each other to determine which ones are sharing which rooms across a floor.
There is more in this SmartCast article in the Electronic Weekly news section.
The photo shows a SmartCast troffer luminaire upside down. In the foreground is the light and movement sensor, with the linear LED array stretching into the distance, surrounded by the reflector.

Tags:
luminaires
Related Tech News
An interesting concept - origami-inspired LEDs. Offered in suspended and…more »

LED manufacturers Cree and Osram have signed a patent cross-license agreement, writes Richard Wilson.more »

One arrived this morning and, expecting to read that yet…more »

A German-Austrian joint venture is to develop and produce OLED lighting in Dresden, writes Steve…more »
Share your knowledge - Leave a comment