Cree LED lighting arrays compete with ceramic-metal-halide lighting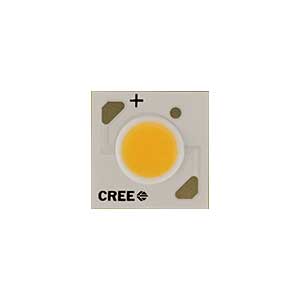 Cree is aiming to displace ceramic-metal-halide lighting with two ceramic tile LED arrays.
CXA1304 (pictured) has a 6mm optical source producing up to 1,034 lm, and CXA1816 has a 12mm source with up to 2,000 lm – for 70W ceramic-metal-halide spot lamps and down lighters.
"All the LEDs in the CXA family offer 6,000 hours of LM-80 data published and are designed to support TM-21 reported L90 lifetime of over four years, even at 105°C," said Cree.
Available in whites from 5,000K to 2,700K CCTs, there are high-CRI variants that deliver a typical CRI of 95 (93min) with a typical R9 value of 85 at 3,000K. Across the family, CXA LED lighting arrays now span 300 to over 10,000 lm.
1304 is 13.4×13.4mm and comes in two basic types: nominally 9V (1A max) and 37V (250mA max), both 10.9W max.
1816 is 17.9×17.9mm and drops 37Vtypical at 350mA 85°C. Maximum driver current is 0.9A (38Wmax). Outputs from 1,300 to 2,000 lm are available.

Related Tech News
Share your knowledge - Leave a comment