Cree XH ceramic mid-power lighting LEDs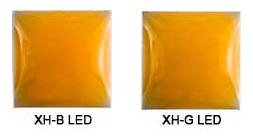 According to Cree, its XH are sub-watt LEDs for lighting are optimised "for fluorescent replacement lighting applications such as troffers and panel lights, where efficacy, lifetime and smooth appearance are critical".
There are two versions: XH-G and XH-B. The former delivers up to 170 lm/W at 65mA (2.9V, 200mW), 5,000K, 80 CRI and 25°C. The latter offers up to 140 lm/W.
They are on 3x3mm ceramic substrates, which Cree claims gives them longer L70 lives in hot lighting environments than plastic LEDs.
Colour temperatures from 2,700K to 7,000K are available, as is a 90min CRI option in 2,600-3,700K warm white.
Other points to note:
Viewing angle is 130°
Maximum drive current for the XH-B is 125mA (0.4W) with light up to 51 lm at 0.4W.
Thermal resistance is 45°C/W
Maximum drive current for the XH-G is 300mA (1W) with light up to 121 lm at 1.09W.
Thermal resistance is 20°C/W.
Samples are available now "and production quantities are available with standard lead times", said Cree.

Tags:
efficacy
Related Tech News
Share your knowledge - Leave a comment