Ledil and Ideal go for Cree CXA35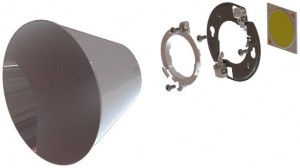 Cree CXA35 arrays can now be mated to Ledil Angela and Angelina reflectors, thanks to a clip-in Chip-Lok connector/holder from Ideal.
"Ideal can offer a complete system that connects the reflector to the Cree array to deliver the most efficient electrical, mechanical, thermal, and optical qualities," said Ideal.
Chip-Lok Array Holders are Zhaga sized and mounted, and made from stainless steel to eliminate plastic creep.
A flange on the outer edge provides a thermal path to the heatsink and offers structural strength.
They are available for arrays from manufacturers including Cree, Lumileds, Citizen, Nichia and Seoul.
The two Ledil reflectors are also Zhaga-compliant, and already compatible with adapters from TE Connectivity and BJB, amongest others.
Angela is 120mm in diameter and 75mm high. Typical beam angles are around +/-6 (spot), +/-10 (medium), or +/-18° (wide), depending on the LED type.
Angelina is 85mm in diameter and 31mm high. Typical beam angles are around +/-8, +/-14, or +/-22°.
Both have a working temperature range of -40°C to +100°C, and are typically 93% efficient.
"The smaller Angelina displays beam characteristics typical for downlights and general lighting," said Ledil.

Related Tech News
Share your knowledge - Leave a comment