Mouser two-LED chip package aims for retrofit lamp designs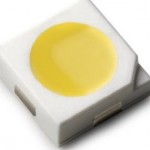 Mouser Electronics is stocking the LUXEON 3535 2D mid-power LEDs from Philips Lumileds, which are available in a two-LED chip package with up to 140lm/W efficacy.
The aim of the two LED package design is to reduce LED count and cost in the design of retrofit lamps, consumer downlights, and diffuse industrial lamps. They are offered across a full spectrum of correlated colour temperatures (2700K-6500K) with a minimum CRI of 80, and the package operates at 0.5 – 1W, delivering up to 130 lumens in the compact 3535 form factor.
Rated at 100mA, the package can be driven up to a maximum of 200mA.

Related Tech News
Share your knowledge - Leave a comment