Power Integrations LED GU10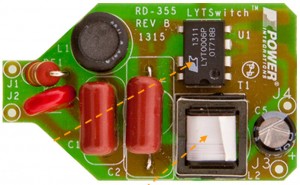 Power Integrations has announced a chip for incandescent light bulb replacement, which includes the challenging GU10.
The LYTSwitch-0 family implements a single-stage non-dimmable non-isolated topology for loads up to 10W.
"Two stage is unsustainable in terms of cost. A LYTSwitch-0 design has about 13 components: the BOM is cheap," said marketing manager Peter Robertson
This is for a high-side switched buck converter. With more components, other modes can be implemented including: low-side buck, buck-boost, fly-back and boost.
With a 700V main switch on-board, operation from ac inputs of 85 to 308V can be sustained.
The firm has also released a 6W GU10 bulb reference design (RDR-355) with 110mA output into a 54V (nominal) LEDs string.
For full details on the release see Power Integrations goes for LED GU10s »

Tags:
Power Integrations
Related Tech News
Power Integrations has introduced a range of single-chip mains LED drivers for loads between 2.5…more »

Power Integrations has introduced a reference design for an 18W non-isolated A19 LED driver that…more »

Power Integrations has introduced chips for mains-powered LED lighting up…more »

Leading the way is the ever-popular, VIZ-inspired LED Company Name…more »
Share your knowledge - Leave a comment