Two blue peaks for whiter white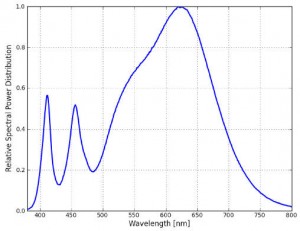 Just when you thought there were sufficient shades of white in the world, along comes another one.
CrispWhite Technology "brings a completely new look to retail settings, with its unique ability to highlight bright whites while while colours appear saturated, revealing the richest colours found in clothing, paints and other goods", said the firm.
And what is the secret here?
It has two blue peaks, the normal one at around 460nm and an extra one at 410-415nm to set-off fluorescent whitening agents.
And the phosphor mix is red-extended, peaking around 620nm. CRI is 90.
Lumileds is making CrispWhite CoB arrays, and setting them against ceramic discharge metal halide (CDM) lamps, which can also render couours, but take moe power, claims the firm – and its should know, it makes CDM lamps – at least, owner Philips does.
Binning (hot) is within a 3-step MacAdam Ellipse below the black body line for CDM replacement.
LEDs are available in the colour from 800 lm (16x19mm 9mmdia, for MR16 and PAR) up to 7,000 lm (28x28mm 19mmdia, 70W and 100W CDM replacement).
All are 3,000K and 90 lm/W typical (lumens above are max-driven and will be less), and have a 35.5V typical forward voltage.

Related Tech News
Share your knowledge - Leave a comment