XQ-E: Cree puts E2 die in domed XQ package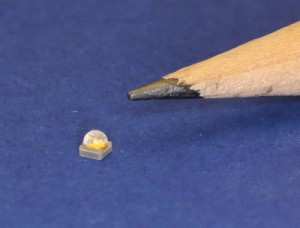 Aiming to let customers pack a lot of light in a small space – to share a single optic for example – Cree has introduced a 1.6×1.6mm lighting LED called XQ-E.
It gets the 1mm E2 die from the XP-E2 LED, under a domed lens that squeezes output angle to 110° from the wider outputs of existing flat-topped XQ-B and XQ-D devices.
Optically, the firm claims it matches the XP-E2 – so is can be retrofitted behind optics intended for the XP-E2.
Conversely, it does not provide a route for narrowing optics compared with the XP-E2.
White and R G and B versions all all due out this month.
See this XQ-E article for more details.

Related Tech News
Share your knowledge - Leave a comment