Marl International manufactures LEDs in UK for 40 years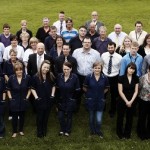 A UK company, formed in Ulverston in 1973, has been designing and supplying LEDs for 40 years. In that time the Cumbria-based Marl International has supplied 500 million LEDs manufactured by its 100-strong British engineering and manufacturing team.
"The secret of our success is that our products are designed, assembled, tested and shipped from one manufacturing complex in Ulverston," said Adrian Rawlinson, managing director at Marl International.
Marl has recently spent £270,000 doubling manufacturing output and speed up the delivery of prototypes.
"Our manufacturing strength is such that customers are now asking us to design and build other electronic systems for them that don't include an LED light," said Rawlinson.
The company directly and indirectly exports around 70% of its output.

Related Tech News
Share your knowledge - Leave a comment