LED news and insight from our technology editor Steve Bush, who has been messing with LED lighting for more years than he would care to remember.
Plessey fabs GaN-on-Si lighting LEDs in the UK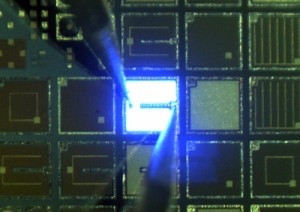 Plessey is sampling 350mW lighting LEDs, made in its 6in Plymouth fab using a GaN-on-silicon process. Possible applications are anticipated in accent lighting, wall washing, wall grazing and strip-lighting.
"The Magic GaN line using standard semiconductor manufacturing processing provides yield entitlements of greater than 95% and fast processing times," claimed the firm.

"PLB010350 is our first, high current device operating at anywhere from 350mA through to 2A in pulse applications," said Plessey's COO Barry Dennington. "We have also been able to demonstrate the versatility and the potential of the Plessey GaN on Si technology by constructing an LED with a relatively large die area."
The data sheets are now up on the Plessey website. For example, see the MAGIC LED PLB117010 Series Advanced Datasheet.

Tags:
accent lighting
,
data sheets
,
Plessey
,
plymouth
,
silicon
Related Tech News
Ledil has a good four page introduction to LED optics…more »

They will be made on a production line that the company will construct in the…more »

Plessey has acquired University of Cambridge spin-out CamGaN, and will…more »
Share your knowledge - Leave a comment