Verbatim bulb scores 'best buy' at Which?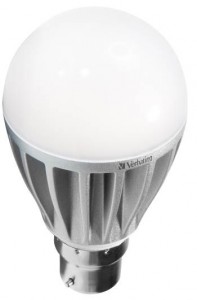 Verbatim, once a floppy disc company, is now an LED bulb maker. And it has won a 'best buy' rating at consumer organisation Which?
Which? is impressive because its reviewers don't just guess, it has its own test labs. It awards percentages to each item on test based on a bunch of parameters, then some of the best get 'best buy' rating too.
Boldly, some of the worst get 'don't buy' rated as well.
You will need a subscription to read the actual results, which I have not got.
According to Verbatim, brightness, light quality, energy efficiency, durability and power factor were assessed, and its 9.5W Classic A LED lamp actually produced 894 lm (860 lm rated).
This is gives 94 lm/W efficacy – particularly good it looks like this a 3,000K version and not a cooler colour temp (There is a slightly less efficient 2,700K version too). CRI is at least 80.
It comes in B22 (bayonet) or E27 (screw) fittings.
I have a couple of bulbs in front of me right now for comparison:
The 2700K 810 lm Osram needs 10W – 81 lm/W
The Focus Pro F6 hits 650 lm (>80 CRI) from 8W as an incredibly high (and therefore more efficient) 7,200-8,000K- 81 lm/W

Tags:
Verbatim
Related Tech News
For minimalist luminaires where the sides of MR16 or PAR16…more »
2 Comments
Share your knowledge - Leave a comment