Gaggione introduces liquid silicone optics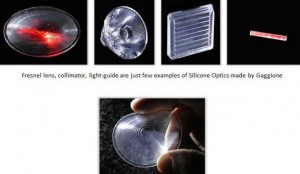 French maker of LED secondary optics Gaggione is offering liquid silicone optics.
The firm now has a dedicated workshop for the technology – including moulding.
"Silicone resin provides the opportunity to make parts with complex design features, some of which are simply not possible with thermoplastic," said sales director David Veryser. "Liquid silicone breaks allows designers to create types of parts never before possible."
Claimed features include:
More than 90% transmission at wavelengths longer than 350nm, even with thick parts.
UV resistance, and better chemical resistance than polycarbonate (PC) or acrylic (PMMA).
Higher operation temperature (>150°C) than PC (130°C) or PMMA (90°C).
New optical concepts though micro-detail replication from liquid material properties.
Better impact resistance than thermoplastics, and reformation properties.

Related Tech News
Share your knowledge - Leave a comment