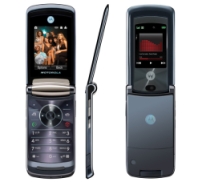 Our new Made By Masters series looks at modern design classics in the making. The first was the iPod, and the second features a mobile phone… <cue drum roll> …the Motorola RAZR.
Its astonishing sales, distinctive looks and small size, combined with reasonable(ish) functionality, earn it a place in our newly constructed and rather makeshift Pantheon. A controversial choice, maybe.
These days, it's easy to forget the impact this slimline clamshell made back in 2004. And it's also hard to figure out how things have since gone so wrong for Motorola in the mobile space, from the position of market leader. Any thoughts on that one?
Anyhoo, back to the glory days… The Star Trek factor undoubtedly played a role – set "Phasers to stun", anyone? – but that alone can't explain its massive sales and undeniable cool. Motorola shipped more than 50 million RAZRs by 2006, and more than 75 million by 2007. That's a lot of people saying "Hello Moto".
And this despite the fact that the Razor was never supposed to be anything more than a "halo product", serving to reflect some glory on Motorola rather than shift product units by the boat load.
Arguably, the RAZR marked the point when mobile phones really achieved the status of mainstream design icons, objects of competitive desire to be shown off to admiring / envious friends, not forgetting the functionality packed into the slimline frame. Even the name was annoyingly effective with its implicit misspelt suggestion of razor thinness…
(Note the RAZR V2 is pictured)
But does it owe its classic status to its visual design rather than electronics design? A triumph of form over content? Of course the challenge was to fit any functionality within such a frame…
Starting with just 5.5 MB of usable memory and a 0.3 megapixel camera, these days – in the V3 version – there's a 176×220 pixel 2.2″ colour screen, with a 3D graphics engine and the ability to watch MPEG 4 video clips with 22kHz polyphonic speaker sound, as well as an internal quad-band antenna, camera with 4x digital zoom, Bluetooth, Java MIDP 2.0 support. All within a 55 x 98 millimetres frame, 13.9mm thick. here are the details of the RAZR spec courtesy of Motorola.
You can also read in depth about the history and various models of the Razr.
The Razr – dating back to 2004 – has certainly found its place in the classic, but for my own money it will shortly be joined by a more recent (2007) model, from Nokia – the 6300…
A surprising contender for Made By Masters status at first glance, maybe, but the build quality is excellent, the S40-based interface is clear and straightforward. Basically, "it does the basics brilliantly". To quote one review:
"It's a lightweight, slimline candybar which does the everyday tasks well and includes most of the current in-vogue features – camera, music player, web browser, Bluetooth – for users who want to do more than phone and text."
You can read its technical specifications here
Actually, how about its direct antecedent, the fine and faithful, tried and trusted Nokia 6100… Okay, I'll stop now.
What are your thoughts on the RAZR and the Nokia 6300? Leave your comments below. Indeed, what are your suggestions for electronic products deserving of a place in the Made By Masters pantheon?