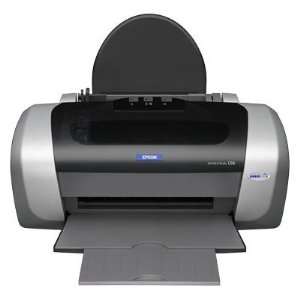 While reading about the Restart Project I came across a great post, about planned obsolescence and Epson printers…
Room had to be found in Made By Monkeys for the Epson Stylus D68 printer. Its reports of its own demise are exaggerated, to misquote Mark Twain. See Our Top Fixes of 2012: #1 – Epson, We Have a Problem!
Basically, it monitors the amount of times it prints out and – after a preset number – sets its own lights a-flashing and tells the user to replace the device. It has apparently reached the end of its useful life. But of course, it hasn't really…
Ugomatic writes:
In short, it's the story of a printer which stopped functioning all of a sudden, leaving the owner with nothing more than 2 blinking lights. According to Epson, the problem was that the ink pads of the printer had "reached the end of their usable life and that your printer will no longer work until it is serviced". Basically Epson has a counter of the number of print-outs produced by a printer, and once a predefined number is reached, the company recommends (actually more than recommends!) that the printer is substituted, or that, in case of expensive high-end printers, the ink pads are substituted.
As our volunteer repairer John pointed out, Epson produced its own software utility to reset the counter. However it doesn't recommend users should use it or even try substituting the ink pads: "Epson does not recommend ink pad replacement by users without technical training or resetting the Ink Pad Counter without replacing the ink pads." This is a typical case of a company trying to expand its control over the way consumers use a product they have bought, so we had to do something about it.
The "fix" is actually just to fix the artificially contrived firmware…
Another guilty printer is also name checked: the HP Officejet 6500. Its offence? To refuse to print 'black and white only' (on Macs), to apparently "avoid spoiling the ink pads" and prevent the colour cartridges drying out. Very cheeky, and a poor excuse.
Could this be the start of a new series – Back From The Dead, perhaps? Let us know if you have encountered similar "planned obsolescence".
Drop us an email, to webmaster@electronicsweekly.com