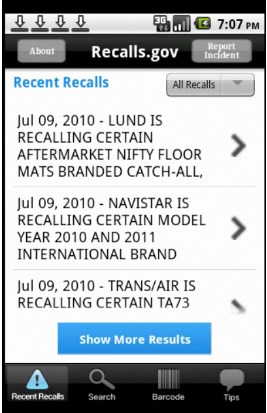 Here's an interesting one. Recall Corner has proved a popular element of Made By Monkeys, and here's a way of accessing a whole lot of data about the details of a whole lot of product recalls.
The mainstay of many Recall Corner entrants, the US Consumer Product Safety Commission, is making its product safety information on all recalls available to third-party businesses and developers through an API. It will also feature in its own mobile app, Recalls.gov (which is available for free for Android devices).
It states:
Recall data from 1973 forward is available via an Application Program Interface (API). It is formatted in XML and contains information currently found in CPSC press releases online such as brand names, product types, product descriptions, companies involved in recalls, where the products were manufactured, hazards, recall dates and UPC codes (when those are available).

Electronic access to this data will give online businesses an easier, direct and more automated way to stop the sale of recalled products. Online retailers and auction sites can use the API to automatically flag and both remove and stop the sale of recalled products quickly after a recall has been announced.
As well as searching for issues by category or product name, or viewing the most recent recalls, the app will also let you report safety incidents straight from your phone. Sounds a nifty app to me.
They are also hoping that the full available data set will encourage developers to create new and wonderful applications and tools, to further distribute the info out to consumers.
For more details, see the CPSC website.