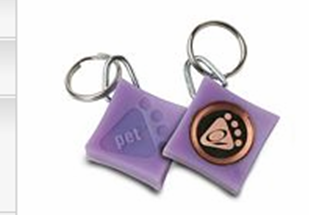 Warning: EMI, that silent and pernicious killer, may be stalking your chihuahua. Thank goodness the people over at the Bargains Xtreme website are now offering a pet-specific device designed to keep Fido fit and free from dangerous electromagnetic waves. It's especially recommended if your dog has daily cell phone usage!:
"That's right the company that brings you the Q-Link for humans has just introduced the Q-Link for animals. A Q-Link pet trial was conducted with the idea that new Pet specific Sympathetic Resonance Technology can help protect animals from harmful Electro Magnetic Frequencies, hip aliments, along with many other beneficial effects. The results were overwhelming. Did You Know? Q-Link technology has been used on racing horses for years to reduce stress and increase performance? The all new Pet-Link is compact and light enough for every size pet (22mm x 22mm, 8mm thick – 6.4 Grams) and features a durable waterproof rubber casing with fitted clip ready for your pet's collar."
Of course you could save yourself the $59.95 and wrap your dog in aluminum foil.