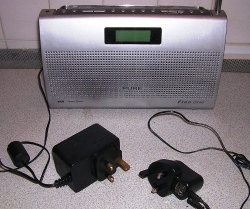 Thanks to one Mike Meakin and Made By Monkeys' American cousin on Design News for highlighting how sometimes it can take a lot of energy to get a little rest. Take digital radios…
It was carrying out an energy audit on his home appliances that alerted Mike to the power consumption of a one-year-old digital radio. Even when it was supposedly 'off', or 'sleeping', it was apparently consuming five and a bit Watts, for just being plugged into the mains.
"I had previously noticed that the radio's mains adaptor got a little warm when it was plugged in," writes Mike. "But a quick check on the manufacturer's website confirmed that this was 'normal'. In my mind anything that gets warm must be consuming energy,  so I thought to myself "time for some more detailed investigation."

My bench power supply (carefully set to 9V output) and connected directly to the radio reported a current consumption of about 200mA during normal reception at low volume (1.8W), which only reduced to 140mA when it was 'sleeping' (1.3W).
I have heard that digital radios are power hungry and was reminded that my boyhood six transistor radio only consumed about 15mA from its puny 9V, PP3 battery at full volume and did the same thing (well, sort of) as my flashy digital box!

My measured power consumption figures roughly agreed with the manufacturer's published figures, but I was measuring the DC input power to the radio-not the AC mains input power. The manufacturer appears to have done the same and perhaps conveniently "forgotten" about the power supply losses in its quoted figures?

The radio is supplied with a (cheap) conventional, copper wire, iron core transformer power supply. Wikipedia informs me that such small transformers may be 'no more than 85% efficient, with considerable loss even when not supplying any load.' This seemed to be the case as I measured a power consumption of 2.9W when the PSU was not even connected to the radio, and a further loss of about 1W during standby or normal operation. So, in standby, the radio consumed 1.3W and the power supply three times that amount = 3.9W. In comparison, my 32? LCD television consumes a total of just 2W in standby.

The manufacturer's web site boasts of its 'Green Credentials' and a May 2009 press release trumpets that its radios "use much less energy than a low-energy light bulb". While this is true it seems a pity that they don't use a more efficient power supply with their product.

As an experiment I substituted the supplied transformer power supply with a low-cost, 9V switcher power supply. This reduced the total standby power to 2.1W – easily halving the 'wasted' power-albeit at an increased capital cost.

Although these small amounts of power may seem insignificant, multiplied by hundreds of thousand of users it all adds up. Surely minimizing the losses would be a good thing?

I am still curious to know just what the radio is actually doing in this sleep mode. All I can see is an LCD display showing the current time,  which I assume requires activity of the radio circuitry to receive time data."