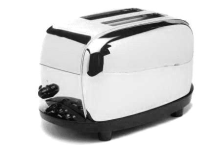 Warning: Toaster covers may be dangerous to your health. That is, if you own a SaltonCook's Essential 4-slide-wide electric toaster, which was voluntary recalled because of a tendency to turn on automatically and ignite items placed on top of it. The toaster was made in China. According to a release by the U.S. Consumer Product Safety Commission, in cooperation with the online retailer QVC:
QVC has received information that ten toasters reportedly turned on spontaneously, including one incident of fire damage to kitchen cabinets and two incidents of toaster covers burned. No injuries have been reported.
Maybe a toaster cover just isn't a good idea after all, given this online review at eopinions:
We have, or I should say "had" a Sunbeam 3910 two slice toaster. We leave it plugged in, and covered with cloth toaster cover. It spontaneously started up, after we had been in bed for over an hour. We heard the smoke alarm and the kitchen was filled with an acrid smoke. For some reason the toaster started and caught the cloth toaster cover on fire, which in turn melted the plastic shell of the toaster. After unplugging the toaster and cleaning up the kitchen I plugged the toaster in and it apparently worked perfectly. I have no idea what happenend.. I do know that nothing had fallen into the toaster, and nothing had pushed the "start" lever down to initiate operation.