There was a fair bit of interest in the report on Xbox failures we covered recently – the "red ring of death" – and here is some more interesting data about the failure rates of consumer electronic devices. Laptops, to be precise.
The US company SquareTrade has produced a report – 1 in 3 Laptops fail over 3 years – based on a sample of 30,000 randomly selected laptops and netbook computers that were purchased brand new.
Highlights of the study, according to SquareTrade, include:
Looking at the first 3 years of ownership, 31% of laptop owners reported a failure to SquareTrade. Two-thirds of this failure (20.4%) came from hardware malfunctions, and one-third (10.6%) was reported as accidental damage.
Netbooks are projected to have a 20% higher failure rate from hardware malfunctions than more expensive laptop computers.
ASUS and Toshiba were the most reliable makes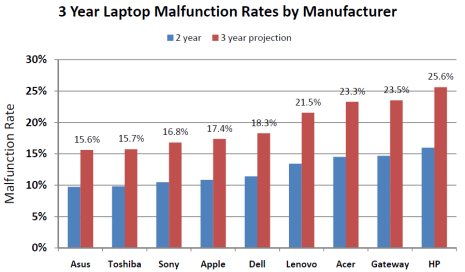 As well as looking at laptop failure rates by make, and type, they also distinguish between total failure rates, accident rates and malfunction rates.
When looking at a 3-year projected malfunction rate by price, they conclude that cheaper netbooks have a 25.1 failure rate, entry level laptops 20.6%, and premium laptops fare better with an 18.1% failure rate.
The report concludes:
While our study found netbook malfunction rates to be trending 20% higher than more expensive laptops, the variance between manufacturer is far greater and should be a bigger factor in making a buying decision. ASUS and Toshiba laptops failed just over half as frequently as HP, which makes them a solid bet in terms of reliability.
Note that SquareTrade is in the warranty business, although this doesn't invalidate their figures.